Oh 't ain't what you do it's the place that you do it
'T ain't what you do it's the time that you do it
'T ain't what you do it's the way that you do it
That's what gets results
~ Ella Fitzgerald
I began with the best intentions.  This weekend, while the hubby was working in Sacramento, I planned to work at least 10 hours on dissertation, compose a 1500-word article plus two blog posts, prep for some upcoming interviews, dissect a single chapter of John Paul's Theology of the Body with a friend, and finally to read (and write a book review of) three other books.  Sound crazy?  Just a little over a year ago, this break-necked speed felt normal.  Anything less and I was downright bored.
Enter Little Miss Marathon, who, on her very best days, slept 3-4 hours straight and ate only the minimum required for her age.  For the last 6 months, we've been trying to figure out ways to get her to sleep and eat—but it seemed that all she wanted to do was go, go, go.  Her energy levels made me feel like a century-old centipede.  And all this came to a roaring head this weekend.  After 24 hours of screaming and no sleep and fighting food at every turn, I finally wondered, "Does she have an allergy?"  The next three days were filled switching from milk-based products to soy and finding ways to get her to sleep regularly.  By Sunday, she was a new baby—sleeping 12 hours straight at night and eating a more normal amount.  On one hand, I was ecstatic that my baby was now comfortable and content; on the other, I was exhausted, and rather than focusing on what I had "done right", I honed in on all that was left undone, namely, every single thing on my to-do list.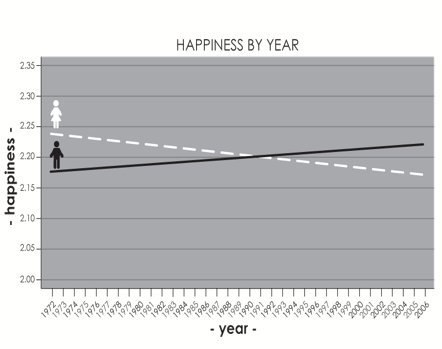 Every year since 1972, The United States General Social Survey poll 1500 men and women regarding various aspects of their lives.  The participants cut across all education levels, income levels, and marital status.  In one question, participants are asked "How happy are you, on a scale of 1 to 3, with 3 being very happy, and 1 being not too happy?"  Across the globe, women's level of happiness has progressively declined.  And this study is only a representative; at least six other studies conducted in this same time frame point to the same problem: in the face of unparalleled growth in educational opportunities, greater financial stability, and progress in the work sphere, women are more unhappy than they were pre-1970.  Markus Buckingham at The Huffington Post aptly summarized: "Wherever researchers have been able to collect reliable data on happiness, the finding is always the same: greater educational, political, and employment opportunities have corresponded to decreases in life happiness for women, as compared to men."
These findings have understandably stirred up a great deal of discussion and debate with many voices trying to make sense of the data. Wharton Professors Betsy Stevenson and Justin Wolfers scandalously speculate that women's level of unhappiness is due to women's rising expectations for themselves.  It's no longer sufficient to be a devoted "stay-at-home-mom" or a "successful business women"—women feel intense pressure to be everything at once, all the time. Inevitably, they fail to achieve all that they set out to accomplish—be it in the home or the workplace.
As a new mom and an academic, Stevenson and Wolfers' assessment rings a chord with me.  Take this last weekend as a case in point: despite my daughter's giggles and sighs of relief, despite deep moments of satisfaction and well-being, I could not shake the nagging burden of my own self-created to-do list.  I wondered where all my time had gone.  I wondered how on earth I was going to finish a dissertation while raising a young family, even with shared household duties.  Rather than savoring the moment, I let my expectations get a hold of me.  It's not that I think I can't be a mother and a professional; it's just that it's probably realistic for me to remember that I can't be all things excellently all at once.  Even the Proverbs 31 woman probably did not accomplish all her feats in a single day.
I would take Stevenson and Wolfers' claim even further and say that for good or bad, our expectations are closely related to comparison.  Working women sometimes envy the apparent easiness of life that stay-at-home moms have.  Stay-at-home moms sometimes envy the apparent freedom that working women have.  Many envy the women who appear to have both.  Our own judgment of what other people have and do, however misinformed, directly impacts our expectations for ourselves and thus, our level of happiness.  I can't help but think that given our basic necessities (food, water, shelter) and barring medical and/or mental problems, our level of happiness would improve if we really believed that less is more.